2017 Sustainable Development Sponsorship
The NAIOP Sustainable Development Committee expands members' knowledge regarding sustainability from the developer's and owner's perspectives. The Committee also works closely with the Government Affairs Committee on policy initiatives that impact our members. Members also serve on state and local working groups to craft codes and legislation.
About Sustainable Development Events
Roundtable events throughout the year provide members with unique opportunities to learn more about emerging sustainable innovations, case studies highlighting the accomplishments and value of green buildings in our region, and proposed regulation to keep members up on what might impact their businesses.
The committee's focused, high value events serve as education and networking opportunities for NAIOP members. Sponsor Sustainable Development and connect with forward-thinking leaders in the commercial real estate industry, and show your brand is aligned with the sustainability considerations that are important to developers and owners.
Roundtable Sponsor – 80 Points / $800
Logo recognition on NAIOP Washington's Sustainable Development Committee's web page, onsite and marketing materials.
One complimentary roundtable event registration.
Sustainable Development Networking Event – 50 points / $500
Logo recognition on the NAIOP Washington online event calendar, onsite and in marketing materials.
Two complimentary event registrations.
Sponsorship recognition through NAIOP Washington's social media platforms.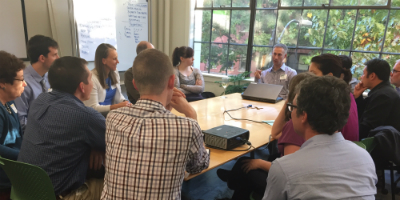 Attendees learned about Washington State energy code changes at the October 2015 roundtable meeting.
All sponsorship opportunities are first come, first served from the date payment is received.
Available Sponsorship Opportunities
Networking
Education
Community & Influence / Extra Points
Advertising Opportunities