Equity Residential Brings Local Art to Junction 47 Project
More than ever before, developers are incorporating public art into their projects in the interest of adding both aesthetic beauty and brand distinction to their real estate investments. They realize that art—if done thoughtfully and collaboratively—can serve to draw positive attention to their buildings, particularly in mixed-use buildings that bring together an eclectic mix of urban audiences.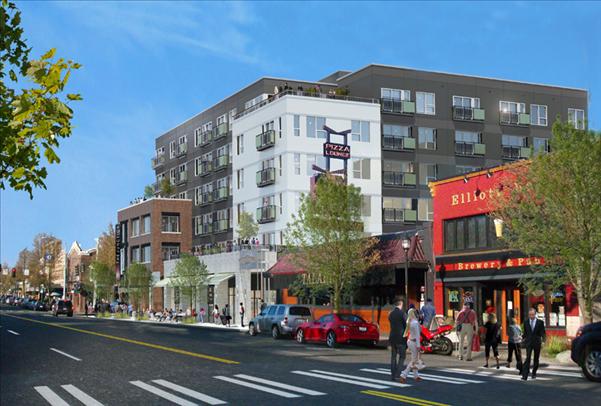 Image of Junction 47 exterior courtesy Equity Residential
A new mixed-use project in West Seattle has taken this strategy to the next level, using two locally renowned sculpture artists to create a range of pieces that pay tribute to a neighborhood's deep and proud history. It's part of Equity Residential's "Artist Engagement Program" at Junction 47, a 206-unit apartment building opening this month at 4076 California Ave. SW in West Seattle. The building, located in the popular Alaska Junction neighborhood, also includes 19,814 square feet of street-level retail.
Equity Residential First Vice President Bradley Karvasek says public art is an important component to successful urban mixed-use development. "We believe our apartment projects need to reflect the local neighborhoods, and public art provides a medium to accomplish that in a very creative and functional way."
He continued, "This area is home to so many talented artists, and a communitybased engagement program that leverages their artistic vision made perfect sense—especially in an iconic neighborhood like West Seattle."
To manage the Junction 47 Artist Engagement Program, Equity Residential commissioned the help of Sara Everett, a local artist who works with developers on the public-art commissioning process. Everett, who curated public art at the Youngstown Flats project in the Delridge neighborhood, coordinated Equity's requests for proposals at Junction 47, a process that started months ago as the project moved through the design and development process.
By no means was Everett alone in this process. She managed the curatorial process in cooperation with leaders from the West Seattle Junction Association and the West Seattle Junction Neighborhood Organization (JuNO), among other local stakeholders. That collaboration was a key driver to success, according to Karvasek. "Having the constant support of these local stakeholders and community organizations was paramount—their knowledge of the neighborhood and passion for creating something very special through sculpture art was a game-changer."
The West Seattle stakeholders, in cooperation with Everett and Equity's executive team, chose West Seattle native Lezlie Jane and local Seattle artist Miguel Edwards to create 20+ exterior art pieces that will adorn the project's support columns and public space. The art, currently in development and slated for installation within the next 6-9 months, will be created from glass, steel and bronze and range in size between 1 and 3 feet tall. Together, they'll tell the story of the West Seattle's rich history at an intersection where the neighborhood was started decades ago.
Aside from honoring the past, Karvasek believes the public art at Junction 47 will help to define the future of the Alaska Junction. "We create our apartment buildings to stand the test of time. We think this building—and this art—will be a very important part of West Seattle's tomorrow. That makes us very proud as a developer, owner and community steward."
Weber Thompson is the project's architect, and Andersen Construction is Junction 47's general contractor. More information on Junction 47 is available by calling 206-223-1431. Background on the artists and samples of their work can be found at migueledwards.com and lezliejane.com.
This article was written by NAIOP Washington State Member Richard Kendall and originally appeared in the June 2015 issue of The Deal. Click here to download the full issue.
The Deal is generously sponsored by:

Share this post: