Risks & Collaborations: A Discussion on the Future of Seattle [Recap]
On Wednesday, January 20, attendees of the monthly Breakfast Meeting were treated to our annual program with the Runstad Fellows from the University of Washington. The program, "Risks & Collaborations: A Discussion on the Future of Seattle," was sponsored by Touchstone and Deutsche Asset Management - we sincerely thank them for their continued support. President John Teutsch gave the assembly an update on the new members. We also heard that nominations were open for the Community Enhancement project for 2016 and are due February 15 (click to download the nomination form).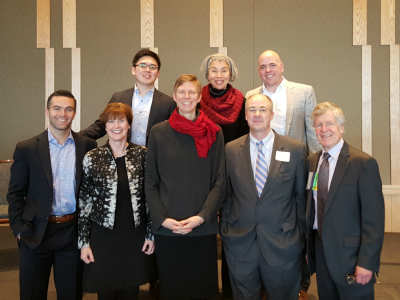 The panelists presenting were:
Joe Ferguson – Principal, Lake Union Partners

Maiko Winkler-Chin – Executive Director, Seattle Chinatown-International District Preservation and Development Authority

Kate Simonen – Architecture, UW

Thaisa Way – Landscape Architect, UW

Yeon Soo Lee – UW Runstad Center 2015 Graduate

Andrew Hunt – UW Runstad Center 2015 Graduate – The Wolff Company
We were introduced to the three cities the group visited – Curitiba and Rio de Janeiro in Brazil and Santiago, Chile. There were overriding themes for each city:
Santiago – Social equity and quality vs. quantity

Rio – The 2016 Olympics and evaluating public/private partnerships

Curitiba – Architects as planners – collaboration requires courage
Andrew spoke of the three cities and the findings of the group. In Santiago, there was a decrease in homelessness from 25% in 1973 to 3% today. However, the free market was not balanced by government oversight, and led to some undesirable outcomes such as the lack of public space. Andrew talked of this as a dichotomy of providing shelter while not making homes.
Rio de Janeiro, the largest of the three cities with a population of six million, presented a different set of challenges and reaction to those challenges. There has been significant growth as well as high profile events such as soccer's World Cup and the upcoming Olympics. There is great economic disparity; consequently, 25% of the people live in slums. The locals that our group spoke with saw street art as a net benefit that fostered a sense of community. An overriding challenge is what the community can do to incentivize private investment.
Curitiba presented a different picture. Planning, specifically planning around transit, has been the normal mode of operations for more than 70 years. This has led to a very strong bus transit system and the highest number of parks per capita in South America. The team reached a couple of conclusions:
Resources and public will are keys to making things happen

Perfection is the enemy of the good – they tried things in Curitiba and improved as they went along
Joe Ferguson presented an overview of how each of these cities has responded to challenges. In Santiago, the government instituted a demand-driven voucher system. Like Seattle, Santiago has topographical challenges. Joe mentioned that regional malls had become the new urban centers in Santiago.
In Rio, it was clear that single (or a small group of) landowners made the velocity of change quicker. A sense of home is really important – even though a large number of people live in slums, they sometimes did not want to move. A challenge moving forward is how to repurpose the Olympic facilities.
With Curitiba, it was apparent that the long-term perspective of planning had paid dividends. It is a very desirable place to live; they've been working on transit-oriented developments (TODs) since the 1960s. A number of the people from Curitiba talked of "urban acupuncture" – small, localized efforts that had great effect on the whole.
There was a robust Q & A session that centered on:
What are Seattle's opportunities for urban acupuncture?

How did Curitiba's transit system develop – are there lessons for Seattle?

How did the studied cities address affordable housing and urban villages?

What are the roadblocks to achieving great results in Seattle?
Finally, we saw a preview of the next trip for the Runstad Fellows to Auckland, New Zealand, and John closed the meeting. We are fortunate indeed to bring the world to our breakfast!
This article was written by NAIOP Washington State member Edward Scherer, Account Executive, Avidex Industries, LLC.
Share this post: