Matt Griffin on WSCC Expansion [May Breakfast Recap]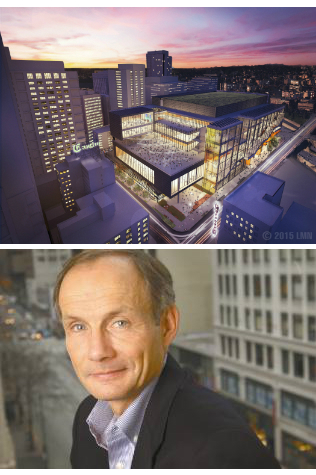 In a continuing effort to bring to our members the latest news of the day, the May Breakfast explored the subject of the Washington State Convention Center Expansion. The breakfast was sponsored by Clark Nuber, PS, Auburn Mechanical, and VECA, and we sincerely thank them for their continued support. President John Teutsch began the meeting and gave the assembly an update on new members and we also received an update on the Summer Social. It sounds like a fun time will be had by all! John introduced Matt Griffin from Pine Street Group who is developing the Convention Center expansion.
Matt began by giving us some facts and figures on the current Convention Center. The addition will take place on an eight-acre site, essentially doubling the size. Matt talked about the uniqueness of a Public Facilities District which allows for targeted tax revenue to flow towards the Convention Center.
The goals of the Convention Center expansion were outlined by Matt:
Spread the use

Increase bookings

Aid tourism and hotel usage year-round

Provide the area with a sense of place
Matt outlined some of the financial advantages of the expansion:
The current Convention Center adds $400M annually to the local economy, with the expansion projected to add $240M annually

The job base of 6000 direct and indirect jobs will increase

The construction phase will also provide many jobs
Matt spent a fair amount of time talking about pedestrian access to the combined Convention Center. He noted that the new space will add only 700 parking spaces which adds credence to the idea that we will use cars much differently in the next two decades as opposed to the last two decades.
The addition will be anchored by a 16-story office building to the north and a 40-story apartment building to the south. We appreciate Matt giving us an update on this exciting project which will continue to change the cityscape of Seattle.
Read more about the Washington State Convention Center Expansion, including coverage from our breakfast meeting:
This article was written by NAIOP Washington State and Programs Committee member Edward Scherer, Account Executive, Avidex Industries, LLC.
Photos: Washington State Convention Center Addition design proposal courtesy LMN Architects; Matt Griffin, Managing Partner, Pine Street Group.
Share this post: